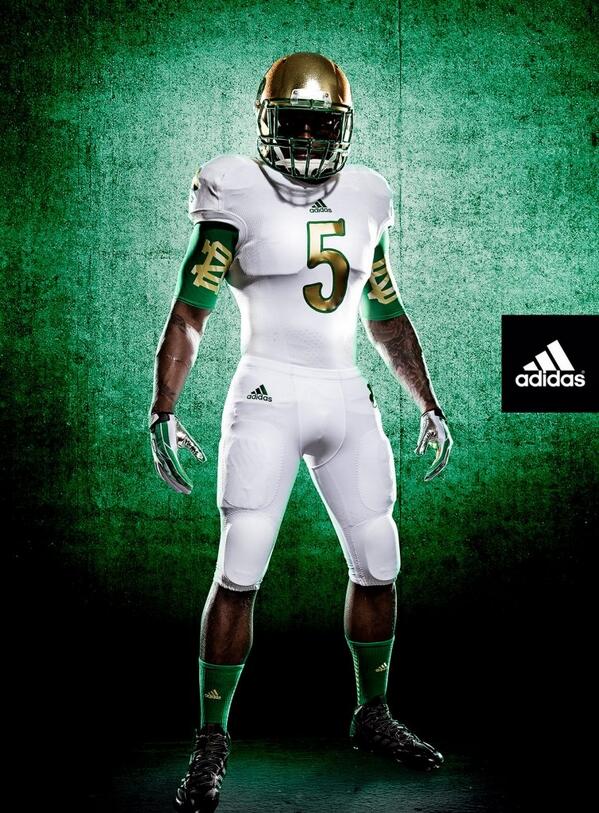 I would have posted this last night when the game was on, but I was literally struck senseless by the gold lame'. Federal law now prohibits me from telling you what I REALLY think about this get-up, but I will go so far as to say.....WHERE IN THE FREAKIN' ALMA MATER DOES IT SAY "NOTRE DAME, OUR MOTHER, TENDER STRONG AND TRUE, ALL DECKED OUT IN A SOLID GOLD DANCER OUTFIT AND GREEN SOCKS THAT MATCH OUR SHOES" ???!!! (*)
Seriously, Adidas? Seriously?
Dear sweet Jesus, I can't wait to see what the hell they wear next year.
(*) For the record...the words are: "Notre Dame, Our Mother. Tender Strong and True. Proudly in the Heavens, gleams thy GOLD AND BLUE."
Nope. Not one mention of WHITE. GOLD LAME'. OR FREAKIN' KELLY GREEN!
And yes, since you asked....I THINK THEY LOOK LIKE MARSHMALLOW COVERED OOOMPA LOOMPAS THAT WEREN'T SMART ENOUGH TO GET OUT OF THE WAY OF THE GD CLEARANCE BIN CRAFT GLITTER AND THE CRAZY ASS PERSON WHO CAME UP WITH THE IDEA TO MAKE EVERYTHING.....GLITTERY! AND SPARKLY!
I'm going back to bed....